Loading...


From WKYC.COM / TV 3
Get the latest school closings and delays
Education



Wednesday, May 23, 2012




Pepper Pike freshman wins Princeton Prize in Race Relations




Demi Zhang uses art to improve racial harmony


by WKSU's KABIR BHATIA


Reporter
Kabir Bhatia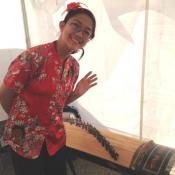 Demi Zhang and her 21-string zither, which she plays in the Cleveland Chinese Music Ensemble. The Orange HS freshman is the winner of the second Cleveland Princeton Prize in Race Relations.
Courtesy of K. Bhatia
Download (WKSU Only)
The Princeton Prize in Race Relations recognizes high school students who are making efforts to improve racial harmony. WKSU's Kabir Bhatia reports on a freshman who is using art to do just that.
Bedecked in a colorful Asian frock, Demi Zhang was all smiles as she prepped for a zither performance at the Cleveland Asian Festival last week. The Orange High School freshman from Pepper Pike, and first generation Chinese-American, sees it as more than a chance to entertain. She says it's a way to build bridges between her native and adopted cultures.

"I wanted to find a way to allow people to accept each other's differences. Because if you argue with somebody politically or morally, then it's a lot harder to come to understand that person. But something with art and music, that's more a universal language, is a lot easier to communicate with."

Princeton Prize comes to Ohio
The Princeton Prize was launched in 2003 in Boston and Washington D.C. Today, it's awarded by alumni in two dozen U.S. cities, and Zhang is the second annual recipient from the Cleveland chapter, covering seven counties.

Civil Rights attorney Sandhya Gupta organized the Cleveland branch in 2010. She says Demi's plethora of interests made her stand out among the competition.

Zhang a shoo-in
"The fact that she's been performing in a professional Chinese ensemble for four years, and she's only a freshman in high school, was something that struck us. Also the fact that she's had pieces of art, all based in Chinese tradition, displayed in professional exhibitions… this is sort of a life's work for her."

Each regional winner receives $1000 along with an invitation to a race relations symposium at Princeton. Demi swims, takes ballet, ice skates and runs a Chinese culture club in her neighborhood, and she says the symposium has given her even more avenues to investigate.

"There were a lot of other people who also did vastly different projects. I personally like to write. But then I had this phase where I desperately wanted to be a teacher. And also I have a good friend who is a fantastic immigration lawyer. And she has gotten me very interested in that whole aspect. Because in court, there's the court battle, but there's also the battle of changing a person's life in many cases."

Racial dialogue still needed in Northeast Ohio
Zhang's calling for social justice is not rooted in personal experience. She can't recall much discrimination growing up. Neither can Sandhya Gupta, who also grew up in Pepper Pike. But she feels Northeast Ohio can still benefit from understanding between cultures.

"I don't know that Cleveland is unique in that, but it's definitely here in various communities. That's an area... ripe for racial dialogue. I don't think there's anywhere in our state, our country, our world that does not need this."

The Princeton Prize will be presented to Demi Zhang at an event this week in Cleveland, and the deadline for next year's prize is January 31.
Page Options
Print this page
---
---
---
Stories with Recent Comments