Economy and Business



Friday, December 23, 2011




Tax breaks to aid development in Northeast Ohio




Northeast Ohio to get more than $11 million in tax breaks




Story by

GRANT ENGLE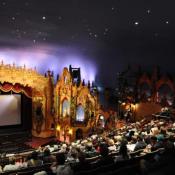 The Akron Civic Theatre hopes to attract more people after the development of downtown
Download (WKSU Only)
The state announced this week that it will grant nearly $15 million in tax breaks for renovation and development of historical buildings in 2012. About 80 percent of that will go to projects in Northeast Ohio. The Civic Theatre block in downtown Akron was awarded about two and a half million dollars in tax credits for its $11 million redevelopment project. Howard Parr, executive director of the Akron Civic Theatre, said the development of downtown Akron is mutually beneficial for the theatre and the city.
Parr said the development should make downtown Akron more aesthetically pleasing, which should attract more people from outside Summit County to visit the area.
The tax credits will aid the redevelopment of six buildings around the theatre on South Main Street.
Page Options
Print this page
---