Loading...


From WKYC.COM / TV 3
Get the latest school closings and delays
Sports



Friday, January 14, 2011




Shurmur says he's ready for Cleveland




New Browns head coach promises a short-passing offense to replace Eric Mangini's emphasis on the running game


by WKSU's KEVIN NIEDERMIER


Reporter
Kevin Niedermier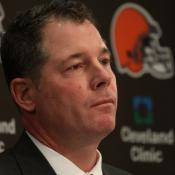 Pat Shurmur, new head coach for the Cleveland Browns, is the fifth coach since the Browns return in 1999.
Courtesy of Dawn Einsel
Download (WKSU Only)
The Cleveland Browns new head coach promises the team's offense will look different next season.
Former Saint Louis Rams offensive coordinator Pat Shurmur was officially introduced at the team's headquarters in Berea today (fri.). Shurmur promises more short passes as the Browns convert to the "West Coast offense" that his new boss – Browns President Mike Holmgren – champions. Shurmur has never been a head coach before, but says he knows what the Browns need…..
Shurmur replaces former head coach Eric Mangini who was fired after winning only five games last season. Shurmur began his N-F-L coaching career under Philadelphia Eagles coach Andy Reid. Browns' General Manager Tom Heckert also rose through the Eagles organization.
Page Options
Print this page
---
---
---
Stories with Recent Comments