Loading...


From WKYC.COM / TV 3
Get the latest school closings and delays
Arts and Entertainment



Friday, November 19, 2010




Sightseeing takes a back row




Spare time hard to come by for Cleveland Orchestra on tour


by WKSU's VIVIAN GOODMAN


Reporter
Vivian Goodman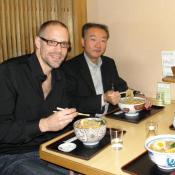 Trumpeter Jack Sutte last played in Japan and South Korea as a student with the Juilliard Orchestra 15 years ago. He has lunch in Tokyo with Akitoshi Mikami, whose company imports musical instruments.
Courtesy of Vivian Goodman
Download (WKSU Only)
If you walk the halls of the hotel where the Cleveland Orchestra is staying on tour, you'll often hear music leaking from doorways as many of the musicians practice in their rooms.
On the current tour of Japan and South Korea, the players have little time to be tourists. WKSU's Vivian Goodman managed to talk with one musician over lunch. Trumpeter Jack Sutte told her time for sight-seeing is at a premium…
Trumpeter Jack Sutte has been with the Cleveland Orchestra 11 years. He last played in Japan and South Korea as a student 15 years ago.
Page Options
Print this page
---
---
---
---
Stories with Recent Comments