Loading...


From WKYC.COM / TV 3
Get the latest school closings and delays
Courts and Crime



Tuesday, August 17, 2010




Death row inmate Kevin Keith goes before parole board tomorrow




Canton native scheduled to die next month; many want his case overturned


by WKSU's KEVIN NIEDERMIER


Reporter
Kevin Niedermier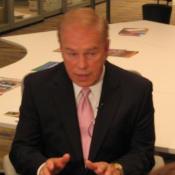 Governor Strickland has concerns about the eyewitness evidence that led to Kevin Keith's murder conviction.
Courtesy of Kevin Niedermier
Download (WKSU Only)
Tomorrow the Ohio Parole Board is expected to recommend whether Kevin Keith will live or die. Advocates...including death penalty proponents from around the country...believe the Stark County native may not have killed 2women and a little girl 16 years ago. Keith was convicted primarily on eyewitness testimony that may have been tainted. WKSU's Kevin Niedermier reports that Governor Ted Strickland...who will ultimately decide if Keith gets clemency...also has concerns.
Page Options
Print this page
---
---
---
Stories with Recent Comments