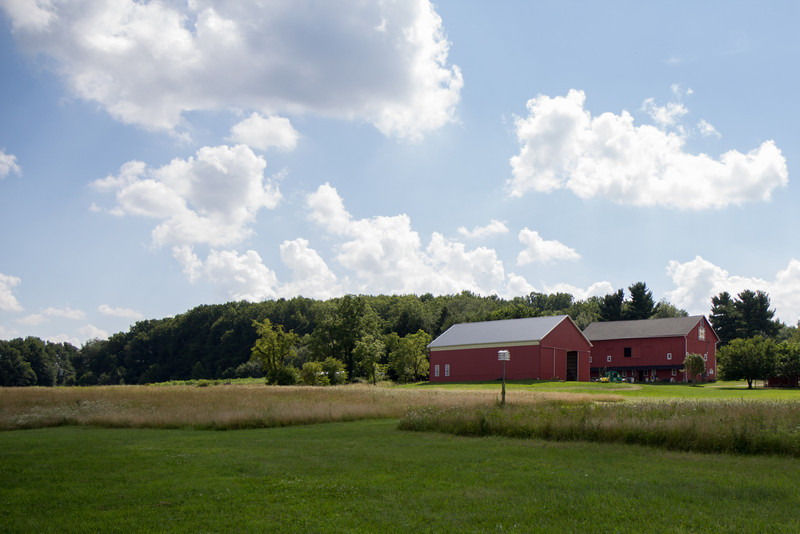 It's a quiet, pastoral setting of gently rolling hills, ponds, orchards, farm fields, and meadows open to all from dawn to dusk for walks, meditation, and inspiration.
It's called Crown Point because it's 1220 feet at its highest elevation, the tallest point in Summit County.
Open to all faiths
The Sisters of St. Dominic of Akron established it, but in recent years a community of volunteers, farm apprentices, and environmentalists has largely taken over.
"It is not geared towards any particular spiritual path," says Executive Director Nancy Wolf. "It is an offering to anyone to explore and experience their spirituality."
New Executive Director arrives in Crown Point's 25th year
Wolf's own spiritual journey may have started at Crown Point. It's where she began to honor the land.
That was long before she moved from Akron to California eight years ago to work on an organic farm, in community gardens, and for a while in the kitchen of a vegetarian monastery. Most recently she managed a hot springs resort.
"The first time I came to Crown Point was in the late '90s. I was amazed that there were sisters here that weren't wearing habits that were farming.
"I started coming here to go to solstice walks through the woods with luminaries lighting the trails, and ritual. I was just introduced to this whole new world by coming out here. And then when I moved back here, I evolved in my journey, my experience to where I was really in line with what Crown Point was doing. It just all came together really nicely."
Uniting a community around food

We step inside an historic barn. "It's over a hundred years old. People have retirement parties in here, anniversary parties, high school reunions. "We have weddings in here, people who want to have a country wedding. Yoga classes that take place in here."
Outside the barn, in the gardens and organic growing fields, it's all about ecological land stewardship, and healthy local food for all. Crown Point has one of the biggest community-supported agriculture programs in the region, now serving 250 families.
And since 1997, Crown Point has donated a quarter million pounds of organic produce to the Akron Canton Foodbank.
"Food brings us together and it's a bridge to connecting with one's spirituality, too. It's really a bridge to all the things that Crown Point stands for, for the community, for the spirituality, sustainability."
Cultivating greens and greenhorn farmers
Wolf shows us one of Crown Point's four greenhouses. Some are high-tunnels where vegetables grow all year round. "The farmers are in here watering I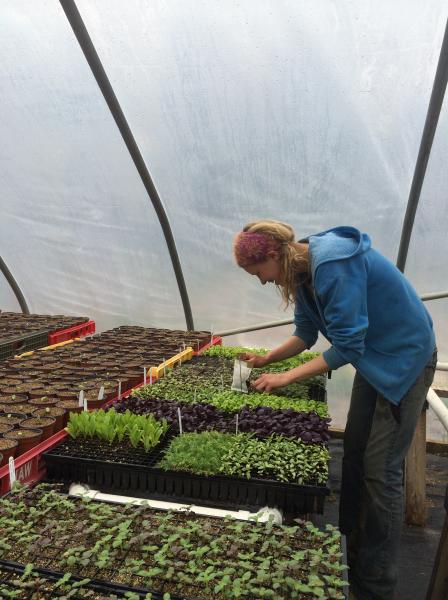 believe. Hi Ashley. One of our farm apprentices. "
Ashley Blosser's been farming for only a few weeks. She's had no prior experience other than home gardening.

"I'm learning a lot about the different plants and caring for the land and sustainable plants."
Young children learn here, too, in farm-to-school field trips when school is in session as well as at summer camp.

"And you can see this is the children's garden here," says Wolf. "When the children come out for the Farm and Science Camp in the summer they learn about planting and weeding and harvesting, and they actually go out into the garden that they grew and pick the vegetables and eat them right on the spot. So it's a really tactile experience for children which is a great way for children to learn and make that connection instead of just, "Well, tomatoes come from the grocery."
What goes around comes around in labyrinths and lives
We end our tour at Crown Point's meadow labyrinth, a place for reflection and meditation. It feels like a maze, a meandering grassy path.
"It's kind of a metaphor for life, says Wolf. "Just when you think you know which way you're going the labyrinth in its design will take you in another direction.
Isn't that what happened to her? "Exactly, exactly. The labyrinth is a metaphor for my life. And it has a happy outcome."
One of Wolf's goals for Crown Point is establishing a kitchen on the property for cooking classes to bring the organic harvest from farm to table.
And that's this week's Quick Bite. Next week we raid the larder as we return to Crown Point to visit again with Hattie's Gardeners, young adults with disabilities training to become organic farmers.