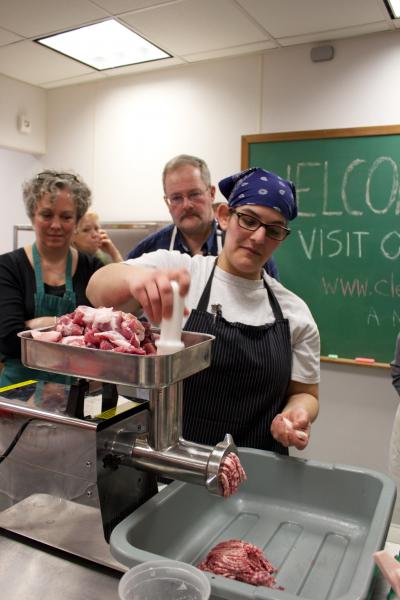 Melissa Khoury hands her students sharp knives, hefts a sizeable bone-in pork shoulder onto her butcher block, and offers a whack at it.
"So anybody want to come up here and get their hands bloody, and dirty, and hack this guy up?
Her sold-out sausage-making class is just getting started at Cleveland Culinary Launch and Kitchen. Twenty students will spend the next 3 hours butchering, grinding, seasoning, stuffing and learning a lot about pork.
A passion for pork that's almost palpable
Chef Khoury launched her new boutique butchering business, Saucisson, at the downtown Cleveland shared commercial kitchen late last year after leaving University Circle's elegant Washington Place Bistro to pursue her passion for pork from snout to tail.
Byron Lee of Cleveland's been interested in sausage-making since his Appalachian childhood.
"As soon as it was cold enough in the fall to kill a hog they would actually do this for 3 days."
Nostalgia might be one reason he's taking the class, but he also hopes to improve on grandpa's sausage.
"It was too salty. So was his ham. So my intention is to make good sausage."
Linking foodies with farmers through sausage
Forging stronger links in the farm-to-table connection is among Chef Khoury's goals. Her hogs are raised on local farms like New Creation in Chardon and Plum Creek in Valley City, and she laments that the friendly neighborhood butcher shops you used to find in every ethnic Northeast Ohio neighborhood are mostly fond memories, while Jimmy Dean reigns supreme.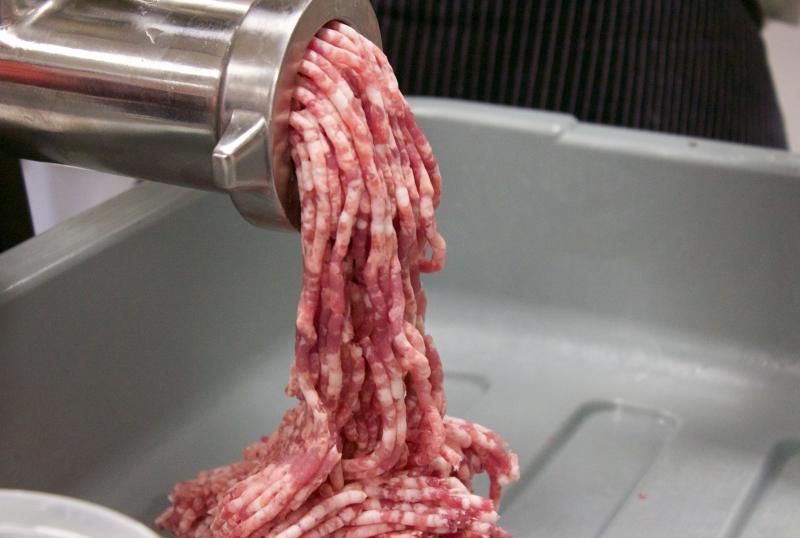 " We've gotten kind of lazy in the fact that it will just be there for us. You just can go to a grocery store and get a pork loin, or pork chops and not have to go to a farmer and ask. And he might tell you, 'No, my pig doesn't go to slaughter until next week.' So it's more of a convenience product that I think people are too comfortable with."
But making your own sausage can be surprisingly easy, she says, and the rewards not culinary alone.
"It's a good chance to get your hands dirty and know where your food comes from. And that's what's important to me."
A chef on a mission
Khoury's been a restaurant chef for 15 years and has long been supplying fellow chefs with gourmet sausage and charcuterie made from locally-raised, hormone and antibiotic-free, humanely-processed hogs. Now she's also selling it at farmers' markets and starting to look for a storefront.

She hopes to save at least part of the world from supermarket sausages. "They're jacked full of so much hormones and so much grain and corn and whatnot that you might as well just eat a piece of cardboard."
She doesn't insist on pasture-raised hogs. "I think it's important that hogs get a well-rounded diet. Grass-fed, all grass-fed, when it comes to hogs it's not all that great. You need to give them some substance and some things to actually build
some fat."
She has no beef with fat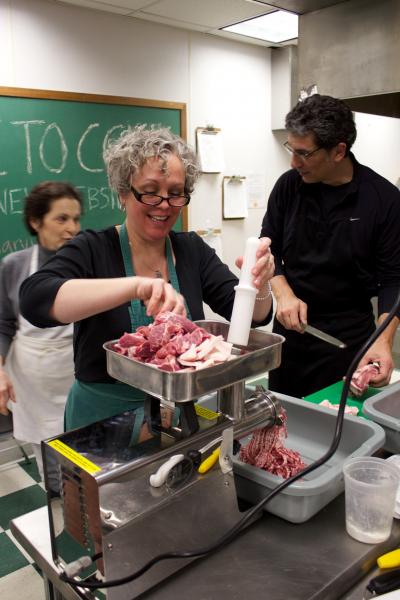 It's the fat she claims, as she affectionately pats the pig part before her, that provides the flavor.
"This hog here is actually a Tamworth and Berkshire cross. So he's going to have a nice fat cap. Tamworth hogs are known for their long loins and their nice, big, fat bellies."
The meat to fat ratio in Khoury's hand-made sausage recipe is five to one. Not a problem, she says, if enjoyed in moderation.
"There's fat in everything. I think what's more important is that people don't eat hormone-packed animals. I think that should be more of a health risk than a little bit of fat in your diet."
Anyway you slice it knives must be sharp and the meat cold
A paring knife is essential in boutique butchering.
"But then also boning knives, slicing knives, and cleavers when you're really getting into it."
The pork shoulder is quickly broken down.
"One of the things that I do immediately is I just get off the skin. It doesn't really matter if you're taking off some of the meat because we're actually going to go back and trim off all the goodness."
Now the slicing knife comes out.
"And you just separate out all these muscles. And I can feel on the tip of my knife the bone here. So I'm just going to allow my knife to ride that bone."
Time now to wash her hands of it and let students take over.
It's a grind but someone's got to do it
"OK so who's chopping, who's grinding?"
As the chef fits a cold, sharp blade onto the Kitchenaid she's asked if the meat has to be ground twice.
"If your grinding plates and your pork is nice and cold, you don't necessarily have to go through twice. You have a nice sharp blade. These are just like a knife. They need to be sharpened. Then you can run it through once."
Next the seasoning. They're making two batches, chorizo and hot Italian sausage.
"Don't just dump all your spices on your meat. Get a bowl. Mix all your spices together first and then start mixing so you get nice distribution of the spices."
Get your gloved hands in it
Blending must be done by hand.
"The best way to do it is like you're kneading dough, kind of a fold-over technique."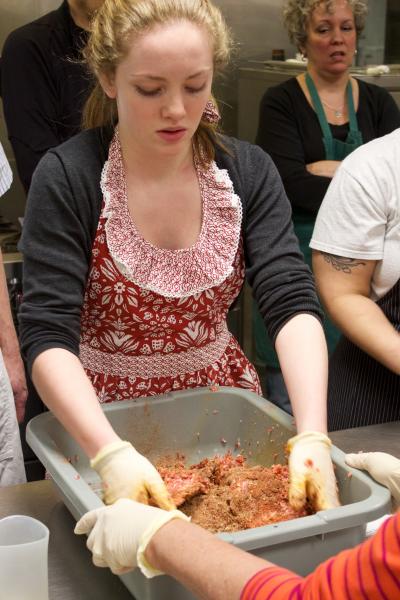 Next a casing is fitted onto the stuffer tube with care not to tear. Instead of an actual hog intestine the class uses collagen casings because Khoury finds them more forgiving.
"You can smoke them, you can poach in them. There's two different kinds of collagens. There's synthetic and fresh. These are fresh, meaning that it's a natural by-product of an animal. They require
refrigeration. They don't require soaking. So they are actually a little bit easier to get on your tube stuffer as well."
Squeamish no more
This is the part Jerry Fragapane of Cleveland remembers grossed him out when he was 5 watching his dad make sausage in their Broadview Heights basement.
"It was very weird. Especially the casings and all that kind of stuff."
But as a grown-up foodie he feels compelled to buy pork from a local farm and make his own sausage. That's why he came to learn how.
"My taste buds have been co-opted by the farmers' market. So any meat products I buy are local. So I don't go to the supermarket."
The meat curls out of the stuffer in a long coil snaking across the cellophane-covered counter-top.
"So as it's coming out you can see that there's nice pockets of fat, nice pockets of meat."
Let the spices mingle with the meat
This time the seasoned meat goes right into the stuffer, but Chef Khoury suggests not to do that at home. Instead, she says, put it in the fridge overnight or for at least 6 ours.
"It just marinates it. All the flavors get a chance to come together and fall in love as I like to say."
Once the links are tied off they can be grilled or smoked.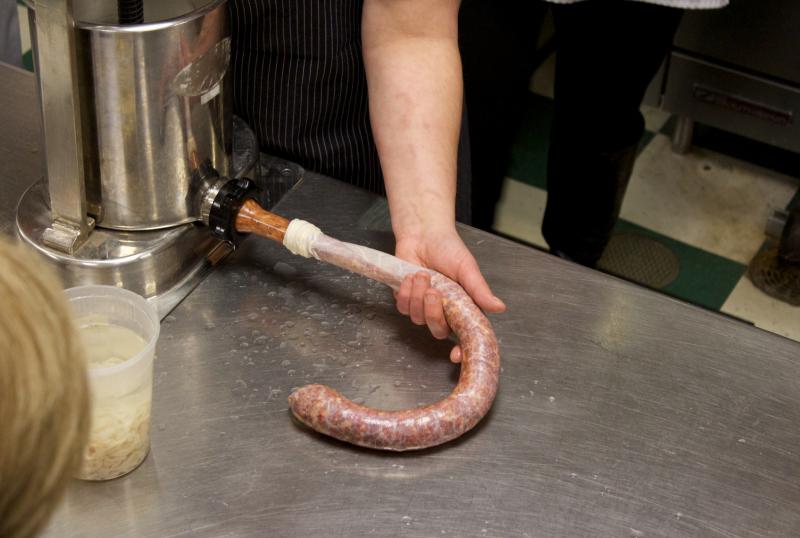 After class the students get recipes and goodie bags of ground pork and seasoning packs to take home.
A lost skill preserved for the next generation
The takeaway for Chef Khoury is the satisfaction of passing on a lost art:
"This is where my passion lies and the education behind butchering. And small animals and the miraculous animal creatures that they are and so many things that you can do with them. That's what's important."
Chef Khoury plans more classes at Cleveland Culinary Launch and Kitchen and next time she says she might go whole hog and bring in more than just a shoulder.
That's this week's Quick Bite.
Next week we meet chefs and dieticians working to get more locally-grown produce into school cafeterias.