Jim Frederickson drove down from Gates Mills for a value-added "Dinner in the Valley" with French Canadian folk music following the meal at Happy Days Lodge.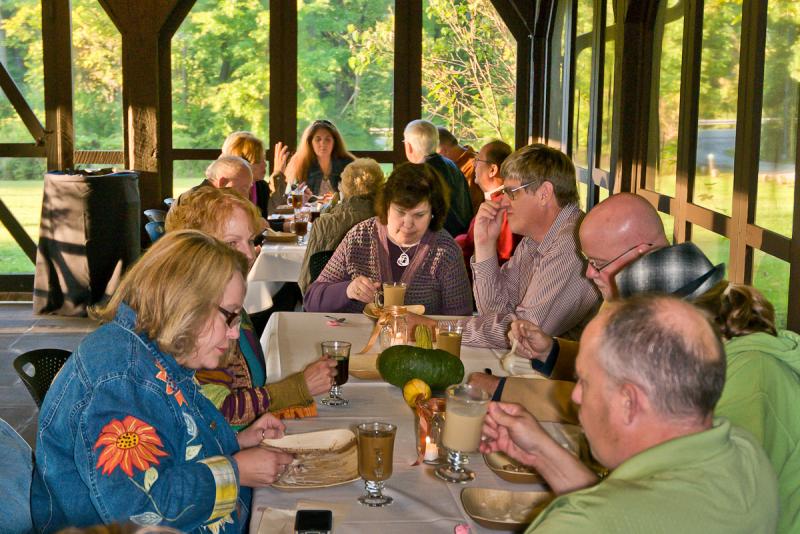 "Oh, yeah, we sat with five lovely ladies and had a wonderful time. And the food was good and there was plenty of it, so a good time was had by all and we're looking forward to seeing Vishten."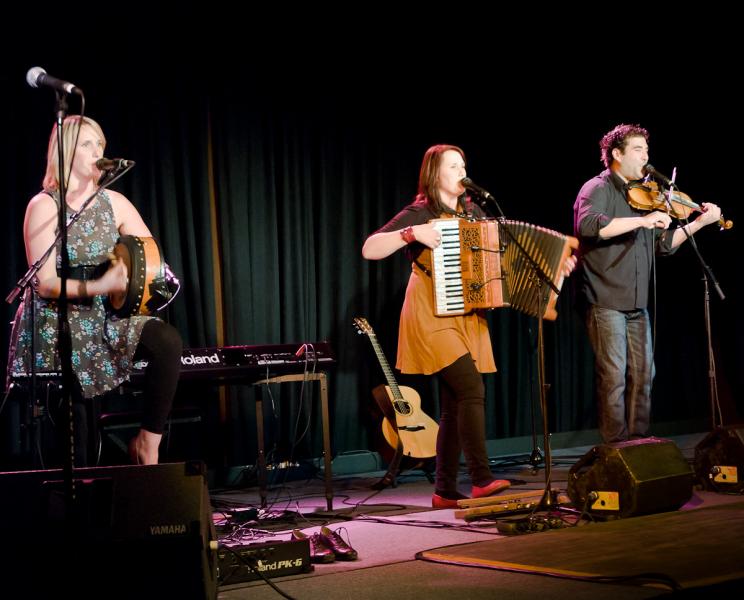 Tonight's Acadian and Celtic music ensemble. Vishten, comes from Prince Edward Island. So do the mussels for the seafood chowder that starts the meal.
The Conservancy for Cuyahoga Velley National Park's catering coordinator Joanna Caley chose an entrée in tune with the music. French Canadians love their
"rappie pie." It's from the French for "to grate"—rappe -- because you grate the potatoes.
"So we included that in our menu for this evening, but we used all local ingredients for that. Local potatoes from Basket of Life farm here in the valley and chicken from Brunty Farms. We shopped at the farmers' market and talked to the local farms to get the food that we serve tonight."
Some "Dinners in the Valley" are served at farms within the national park. In August, guests enjoyed a lamb dish at the Spicy Lamb Farm in Peninsula, after watching a pack of border collies herd sheep.
Pickings were good, too, at a recent dinner at the height of blueberry season, including pork with blueberry glaze from Daniel Greenfield's Berry Farm.
"This collaboration between park partners and the farms in the park, it's wonderful," says Greenfield.
He often sees his community-supported-agriculture customers at the monthly dinners.
"I ran into several of them today and it was really neat to see them and they get to see me in a different context, 'Oh, the farmer. What's he doing off the farm?"
Greenfield's here tonight just to dine.
"Exactly. Yes, and it was wonderful. Chef Larkin does a wonderful job."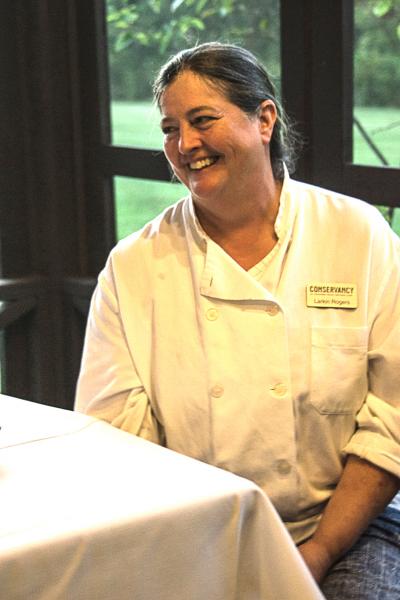 The chef understands some might find it strange that the park has its own chef.
"Yeah, I can understand that surprise, but I think it goes hand-and-glove with our farm mission really. We really are so lucky in this are to have such a broad range of foods available. Everything you need. "
Don Cochran of Brecksville counts himself lucky to enjoy how the chef uses those local ingredients.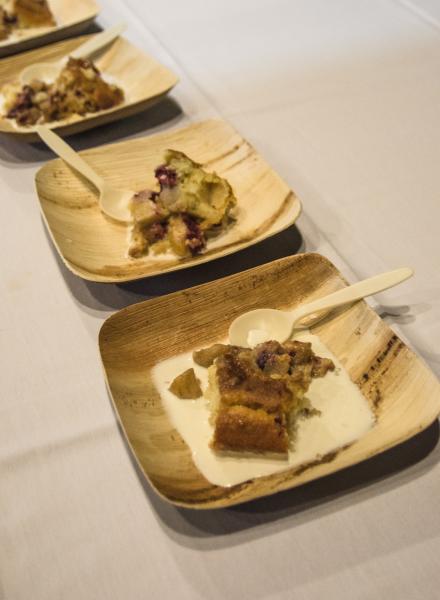 " Real comfort food, chicken, potatoes, glazed carrots, so we were overwhelmed , I think, surprised how good it was especially for a banquet-type environment. Everything was hot and timing was impeccable, so, they could actually do this for a living here."
Marla Rezatski and her young family agree. They've been at almost every Dinner in the Valley for the last three years.
" There's actually a couple folks I'll see outside Dinner in the Valley. I'll just be outside somewhere in the community and they'll recognize us from Dinner in the Valley. So that's kind of neat, too.
The family often visits the park.
" Hiking when we can. It's a little harder with three kids, it was easier with two."
The kids enjoyed the dinner, too.
"Yes. My daughter was really excited. She was in the clean-plate club. She ate everything on her plate."
That's music to the chef's ears. She took pleasure, too, in matching the food to the music.
"We have maple-glazed carrots because you've got to have maple if it's from Canada. And for dessert we did an apple and raspberry grunt which is just a good old-fashioned sort of stick-to-the-ribs-we-should-have-had-snow-but-we-didn't kind of dessert. It's the same as a brown Betty and a cobbler and kind of like a German pancake, that sort of thing."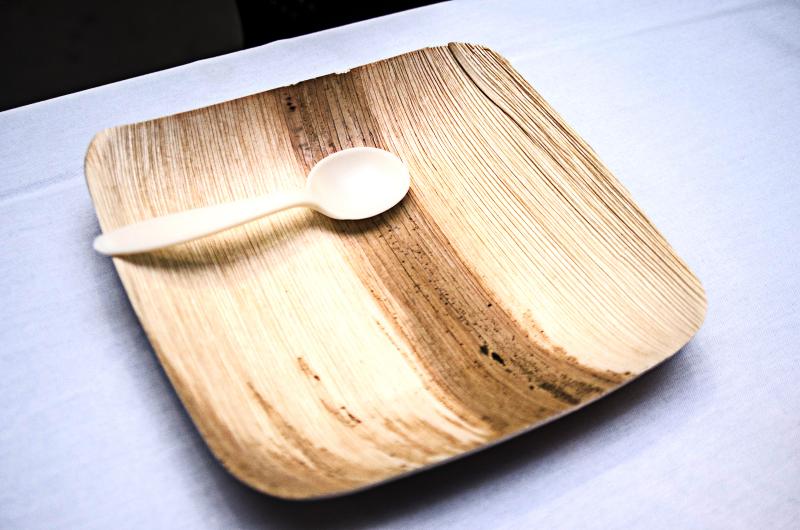 It's served in an environmentally-friendly way.
"In the park we try to use as much compostable stuff as we can. So for the dessert, we had plates that are made out of banana leaves. It's a very large leaf. And then the spoons are kind of the new generation of cornstarch spoons. They really hold up well for heat. "
The dessert, the natural surroundings, Robin Lieberman and Lou Kelsh enjoyed it all. They're Francophiles, so for them the main draw was the French Canadian music.
"And tonight was a bonus because we got to partake in a very good dinner. It started with the magnificent mussel soup or bisque. Oui, c'etait un soupe de moules. It was a very good dinner. "
Music, good food, the beauties of nature in one of America's most beloved natural park, all that was enough to draw 100 guests to this Dinner in the Valley. Reservations are required. They're typically sold out each month. When there's not a concert included, the cost is $30.
And that's this week's Quick Bites.
Next week, we're going to the new restaurant at the Cleveland Museum of Art.