On some things, Mike Bruno just won't budge. That includes scratch cooking. Not just the finished product but ALL the ingredients.
"Everything from scratch. If we could have cows out back we'd probably have cows out back."
Tall, muscular, and mustachioed, Bruno's every move in the kitchen is deliberate. He exudes a quiet confidence. "I think we produce perfect croissant."
The secret of the shine
The crescent-shaped pastries gleam in the display case. How does he get them to shine?
"Just egg yolk, a tiny little bit of cream, and salt. We'll take a fan and we'll dry the egg-wash on the pastry. It produces a crispy product."
Regulars wanted regular fare
These niceties went unnoticed when he opened the business about a year ago. He had taken over his mother-in-law's diner, The Golden Goose, and her regulars wanted what they were used to.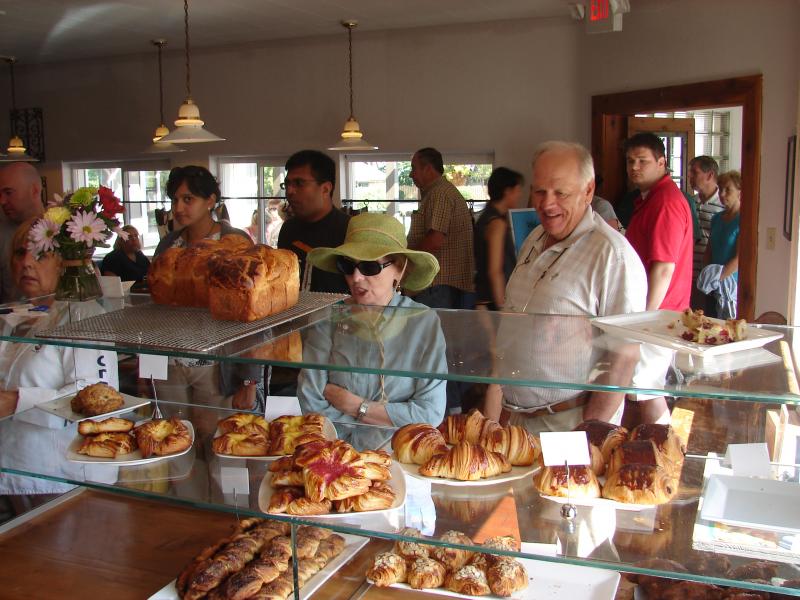 "Some people wanted rye toast. Well, I don't have time to bake rye bread yet so we didn't have rye toast and a lot of people were O.K. with that but some of them didn't like that too much."
He refused to buy rye bread. " That's completely against what we're all about."
His high standards are inherited.
"My Mom would bake and my grandmother would bake and then every few years we'd go visit our family in Germany and we'd go to the bakery and that I think stuck."
Phone lessons helped
He was a confirmed foodie by the time he got to college. And that's where he really learned to cook, but not in a classroom.
"The food there was so bad. So I called my mom. She then taught me how to bake bread. And, 'Mom, I want to make a pudding. How do you do that?' She would teach me over the phone."
Baking became a compelling hobby, even after he married and enlisted in the Marine Corps.

"On the weekends, when I was not deployed. I would bake bread. And then when we got kids, they would enjoy it. So then I got a lot of satisfaction out of that. So then about 10years into my career, I thought it might be more than just a hobby."
He remained a Marine for another decade, serving as a company commander in the Middle East, preparing for an amphibious assault in the first Gulf War, heading a reconnaissance platoon in Somalia, …and sending emails.
"In German and English any possible pastry chef on the internet, and I would ask questions about different products."
He completed his training after retiring from the Marines with a course at a French cooking school. Then he tried to open a bakery in Maryland. It failed, so he came back to Northeast Ohio where both he and his German-born wife had grown up.
A risk worth taking
Her mother owned the Golden Goose, basically a coffee shop on a busy stretch of State Road, surrounded by car repair shops, dollar stores, and fast-food joints. When he bought her out last summer, he knew the risk.
"When we first started this, we were told it's never going to work. It's too gourmet. It's too high-end. People will never want quiche. What is quiche? And that's completely wrong."
He's serving Belgian frambois brioche with blackberries and peaches, sprinkled with maple pistachio nuts.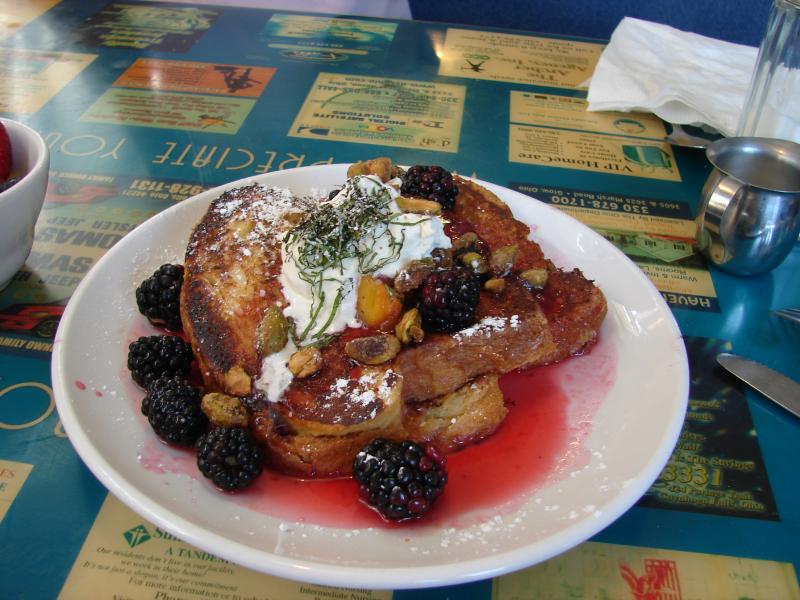 He makes a puff pastry with hollandaise, sautéed mushrooms, asparagus and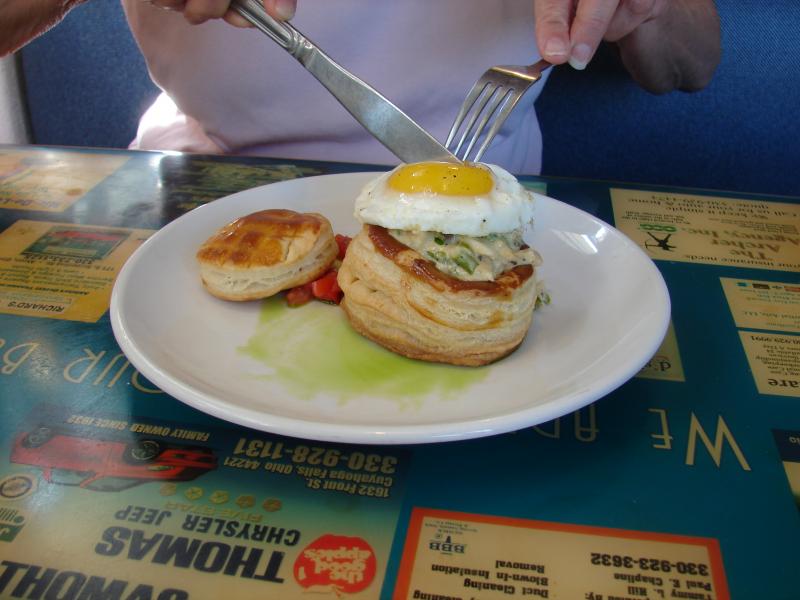 lump crabmeat, topped with a cage-free egg and dressed with basil-infused oil.
He's brought in James Pintiello of Crave to be his executive chef, and Sara Carter, who apprenticed with an Austrian baker.
"We wanted to do tiramasu because we had a bunch of marscapone that we wanted to use. Sara's got enough experience where I can take a recipe that's in German, just translate it on the fly and Sara will knock it out."
Creative Staff
Pintiello's been running the kitchen for about a month and likes what he's got to work with.
"Creativity in the kitchen staff. I feel like we have a good crew here. We can brainstorm on ideas and I have full confidence that they can do whatever I ask of them."
When ex- Marine Mike Bruno needs to be tough, he's plenty tough. But he says no one should be surprised that in his kitchen there's collaboration and democracy. "Marines are always viewed as dictating exactly what needs to be done and I think that's wrong. I try to work on mission-type orders and say 'Make tiramisu.' But I'm not going to dictate exactly how they do it."
Last summer, when Bruno first opened, he was busy only on weekends with visitors from as far as Cleveland . Now, he says, the Blue Door has steady local customers.
"We tried tiramisu before. It never worked. Well, we're trying it again because I think we have a clientele that will appreciate it."
Not enough, though, yet, for the Blue Door to be open late. Bruno says he'll stick with breakfast and lunch for now.

And that's this week's Quick Bite. Next week we'll preview the Akron Hamburger Festival.