Loading...


From WKYC.COM / TV 3
Get the latest school closings and delays
Government and Politics




Thursday, October 25, 2012




Saying there's too much clutter, Renacci cancels his TV ads




The GOP congressional incumbent cuts out broadcast TV for the last two weeks of the campaign


by WKSU's KABIR BHATIA
This story is part of a special series.



Reporter
Kabir Bhatia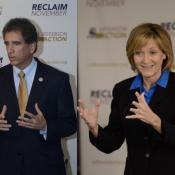 The race between Jim Renacci and Betty Sutton for Ohio's 16th Congressional District is among the most expensive in the country.
Courtesy of ROBERT SUSTERSIC
Download (WKSU Only)
The contest between Republican Jim Renacci and Democrat Betty Sutton in Northeast Ohio's 16th District is one of the most expensive congressional races in the country. That's why analysts are puzzled by Renacci's decision to cancel much of his TV advertising two weeks before the election. WKSU's Kabir Bhatia reports.
Northeast Ohio is second only to Las Vegas in the number of political ads airing on TV. The two Congressional candidates and their supporters have spent more than $9 million to sway voters in the redrawn 16th.

Now, Jim Renacci has canceled his ad buys on broadcast TV stations –such as Cleveland's 3, 5 and 8 – because he no longer feels he can cut through the clutter.

Richard Perloff, professor of communications at Cleveland State University, is perplexed by the move.

"It sounds like a strategic move, to perhaps curry favor when people are criticizing negative ads. But why would you want to pull your ads unless you're going to use your money for other things. One of the biggest ways to get people into campaigns is by the old-fashioned technique of calling them, canvassing and so forth. Could very well be he wants to put his money into that kind of interpersonal kind of technique, rather than political advertising."

Although he's canceling ads on broadcast TV, Renacci is still running spots on local cable channels.

The race between Renacci and Sutton is one of only two nationwide pitting incumbents of opposing parties. Based on past elections, the newly drawn 16th District favors Republican cadidates by six percentage points.
Page Options
Print this page
---
---
---
---
Stories with Recent Comments