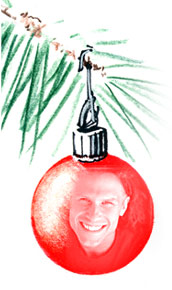 "People Look East", by Eleanor Farjeon
Peter Mayer on guitar and vocal
This is an Advent tune. It tells of the anticipation of the coming of Love, of salvation. Peter was a music director at one point in his musical life. Lucky was the church that had his musical talents at their service! Peter came to WKSU to record this song and, while he was here, told us that he always loved this tune and made sure to play it every year.
"I just love the poetry in it. I just think it is such a gorgeous, rich song. The imagery in it is so wonderful. Being a lyricist, I really listen to words. It's not necessarily the typical images of Christmas, the babe in the manger, or things of that nature. The images are a little bit more unique. Still kind of old fashioned and warm images, but it's not so much, 'There's Jesus, and there he is in the manger and isn't he cute and lovely.' That's not what it's about. It's not a Christmas Carol, because it's about Advent and expectation, but it is a song for the Christmas season, I think. We used to play it with organ and piano in church, but that was a much straighter version. This is much folkier...I love the classic Christmas Carols, maybe because I do hear them so much, but perhaps I like this one because I don't hear it so much. Whatever the reason, I really like it."
For more information about Peter Mayer, check out the Peter Mayer web site.
Copyright © 2000 WKSU Public Radio, All Rights Reserved.
Send comments & suggestions to: letters@wksu.org