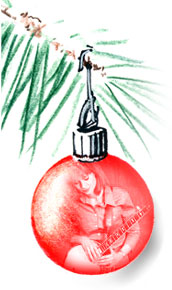 "Carol And The Kings", arranged by the Alison Brown Quartet.
Alison Brown is a banjo pioneer. A one-time player with Allison Krauss, and a former investment banker, Ms. Brown is often compared to Bela Fleck, especially in her freedom to take the banjo to places it's never been. She played with "Girls for Merle," an all star ensemble at MerleFest with Claire Lynch, Rhonda Vincent, Laurie Lewis and Missy Raines. She owns and manages Compass Records in Nashville. (Must be a type A personality) Here's what she said about "Carol And The Kings," which she and the group came up with for "Ornaments."
"My favorite Christmas memory is the Christmas that I turned 8, when my mom gave my dad a guitar for a Christmas gift. It was in a black case under the Christmas tree with a big red bow on it. Inside the case there was a nylon string guitar. It was a Conqueror brand guitar. And my dad took lessons on it for a while, but never really could change chords too fast. So after a time the guitar became my guitar and that's how I started playing music. With the Quartet for this Christmas we've concocted a little medley that kind of pays tribute to Dave Brubeck and Earl Scruggs at the same time. It's a medley of two of my favorite tunes, 'We Three Kings' and 'Carol of the Bells'. And we call it 'Carol And The Kings'."
For more information about Alison Brown, check out the Alison Brown web site.
Copyright © 2000 WKSU Public Radio, All Rights Reserved.
Send comments & suggestions to: letters@wksu.org